I have been trying to keep on top of Block lotto this year (I say this in January completely without irony). I understand that this year will be
less pictorial, more geometric
, which I confess is not really my scene. But I like the idea of working on a year long sampler & this is my year for doing these things (I have EVERYTHING crossed for a baby cow next Dec/Jan & that is going to be quite the time-drain).
Maybe I will give it a try....maybe I will try it for the first six weeks & then forget it completely until I unearth it again in a few years. Maybe I will never start it at all, but at least I did make a handful of blocks to send in.
The first one I call the chocolate lab chevron, the others are from FQs that arrived here to compensate for international postage. As it happens,
that swap had a black, white &/or gray component
& by & large the FQs sent were gray. Funny how that happens....& thinking myself funny, I made two chevron blocks from a chevron FQ.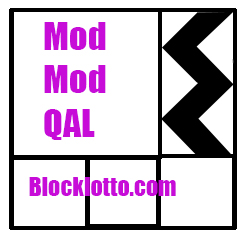 So maybe I will & maybe I won't Mod Mod Quilt-along via Block Lotto. I think if I do, I am going to have to go in a different fabric direction because I am not sure how I might feel about whatever colors are coming up but I am quite sure I cannot face another pile of rainbow theme blocks in my workbasket right now.